After the misery of last week, I think we can all agree that boring isn't necessarily a bad thing, right? Well, the weather will be just that over the next few days, unless you find occasional fog, light showers, and warmer than normal temperatures exciting. And, hey, there's nothing wrong with that if you do!
Today
Visibility is the main story this morning with a patchwork of mist and sea fog out there. Galveston is reporting a half-mile as of 5 A.M., while Ellington Field reports 10 miles of visibility and Katy/Brookshire reports 2 miles.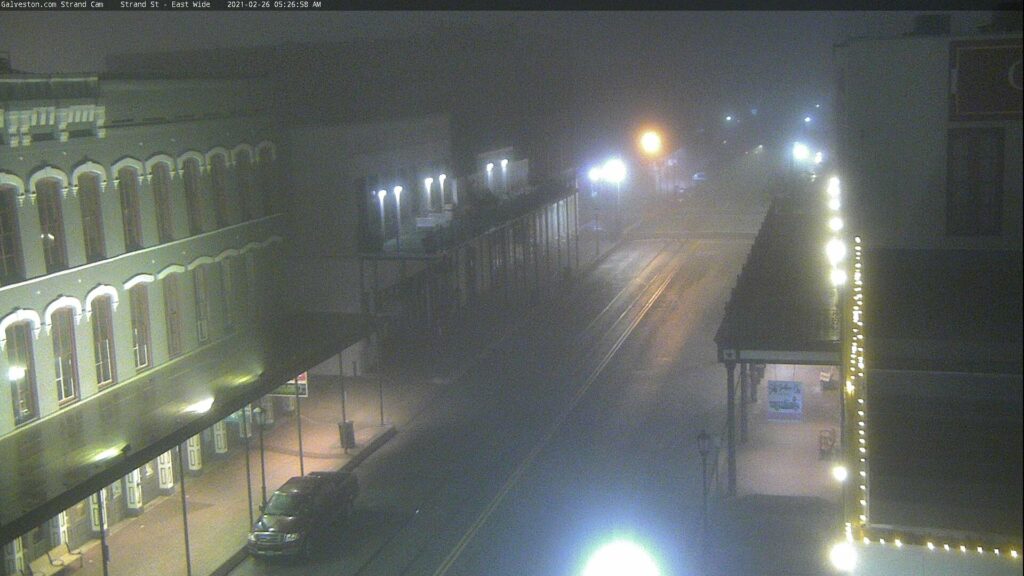 Fog will probably persist near the coast for much of the day, though as is often the case with sea fog, it will likely wax and wane but never completely disappear.
There is a front draped across the northwest part of the area. It should grind to a halt over the Houston metro this morning before lifting back northwest tonight. A few showers will be possible around the area today, but as far as temperatures go, today is a bit challenging.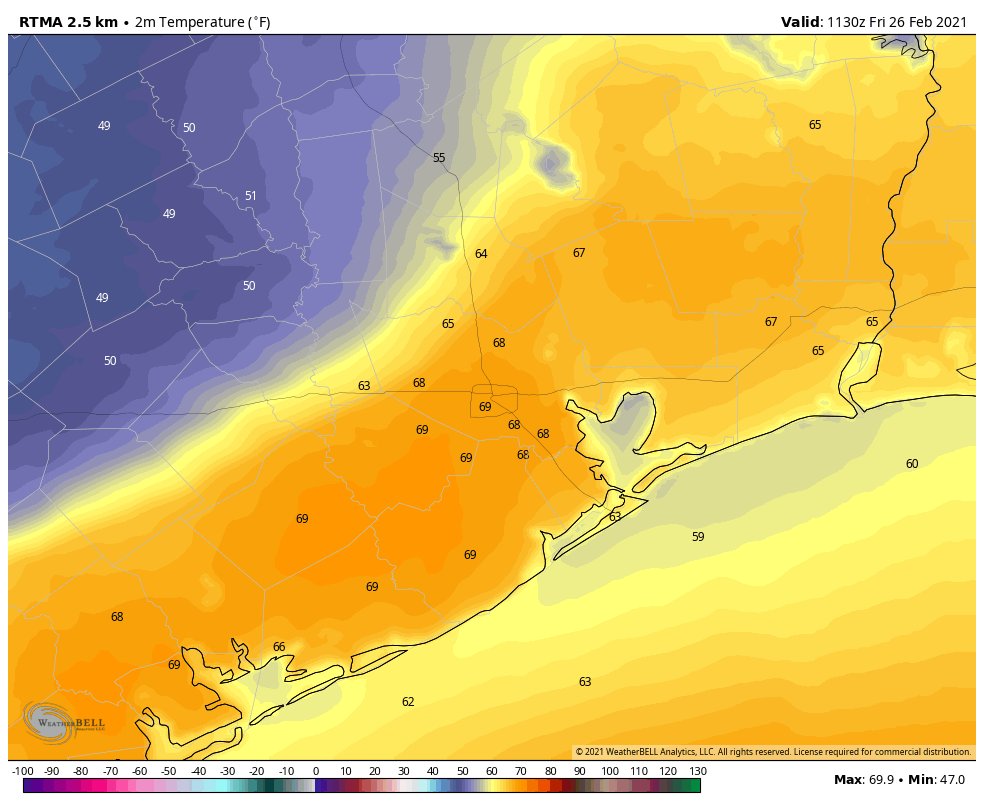 Temperatures behind the front will be a good 15 to 20 degrees cooler than temperatures ahead of the front. In the image above, you can see ample 50s and even some 40s this morning off to the north and west of the Houston area. Immediately ahead of the front it's already close to 70 degrees. So depending on where that stalls today, it may mean the difference between shorts or hoodie weather. That dividing line will probably be close to US-59, but a 5 to 10 mile shift could mean a *big* difference in temperatures for a lot of people in Houston today.
Saturday & Sunday
As noted above, that front retreats to the north tonight, so for the most part, the weekend days look pretty similar for Houston: We'll have more clouds than sun. We'll have periods of dense fog, especially at the coast but possibly spreading inland at night and in the morning also. We could see a few showers or even a thunderstorm. The best odds for that will be north of I-10, where we could see a quarter-inch or so of rainfall through the weekend. Areas south of I-10 will see less. Morning lows should be in the 60s for most folks this weekend. High temperatures on both days will top off in the 70s in most places.
Monday
On Monday, a weak front moves back closer to our area, which should allow for some showers and storms to be scattered about. The front may be able to nudge past the area, which would allow for cooler, less humid weather to take hold for a bit, but that's not etched in stone, and if you have plans on Monday you will want to check back with us then for info on any temperature changes or increased rain chances. For now, expect highs near 70 and temps perhaps dropping into the 60s and 50s by later in the day.
Rest of next week
We should see that front make a final push east of the area at some point Tuesday, followed by a stronger push of cooler, drier air Thursday. This will allow fog to dissipate and get us some nicer weather for a few days. No serious cold will follow, but temperatures will likely back into the 60s for highs and 40s for lows. More on this for you Monday.