Yesterday was a really interesting day across the broader version of southeast Texas. College Station maxed out at 73° on Thursday, which breaks the record of 77° from 1948 as the coolest maximum temperature recorded there on September 10th. Much of the western half of the Houston metro area saw dewpoints drop into the 60s with cooler temps much of Thursday morning. Hobby Airport never dropped below 79° until late Thursday evening. Galveston saw heat index values approach 110°. Many of us saw some rain, with a narrow strip from about the Texas Medical Center north and east past Mount Houston into Atascocita seeing multiple rounds of storms and anywhere from 1 to 4 inches of rain.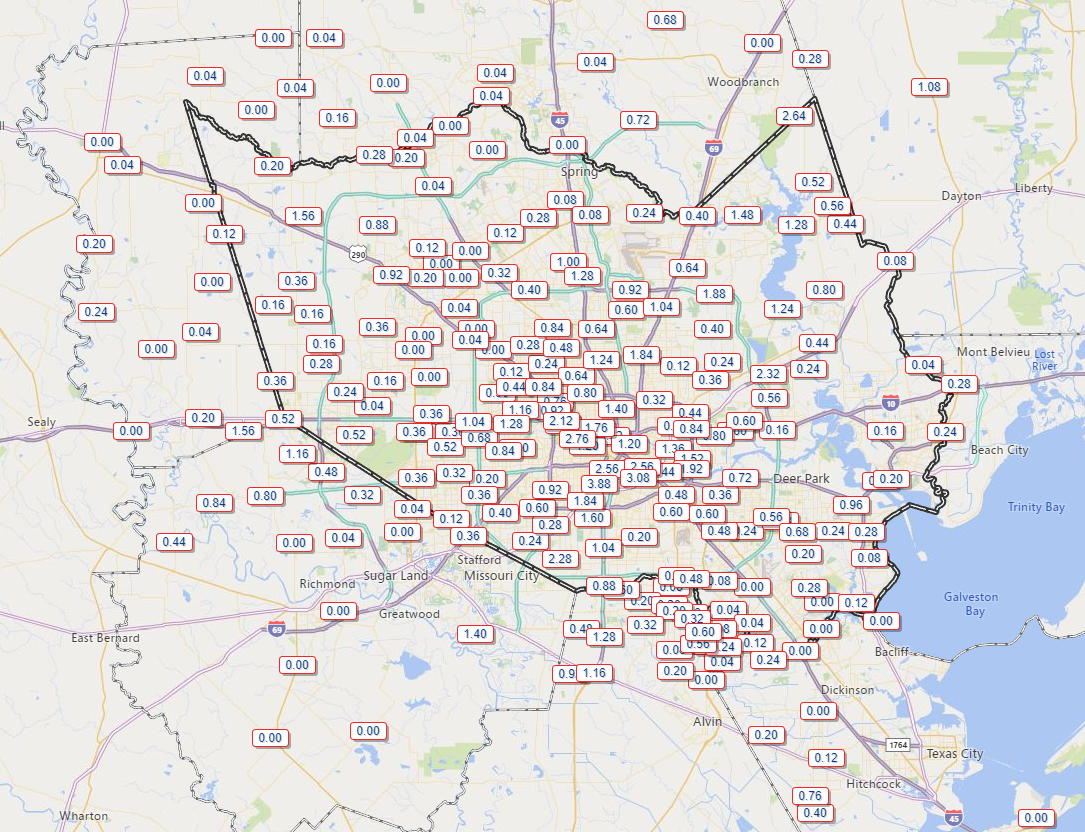 So overall, yesterday was a glorious day for some, a frustrating day for others, and something in between that for others still. We all kind of get back on the same page today and tomorrow.
Today
The cold front is essentially dead at this point. But! The air mass over us is notably drier, yes, and you will probably notice that the humidity today isn't as oppressive as, say, Wednesday (or even yesterday for folks south and east of Houston that largely missed any tangible impact of the front on Thursday). But it will still feel like late summer in many spots. Those of you that experienced an autumn preview yesterday will probably see upper-80s to around 90° today. Most of the rest of the Houston area will see lower-90s. But again, with humidity down it may not feel super terrible.
In terms of rain chances, look for a few showers or storms this afternoon, especially south and due east of Houston with slowly diminishing chances as you go north and west.
Tropics & weekend
I wasn't quite sure how to go about breaking up sections today, but given the complexity, I feel just hitting it all at once would be best. We're watching two disturbances today, one in the Gulf and one over the Bahamas.
Clearly, one looks healthier than the other. The Bahamas one is now dubbed Invest 96L, and the National Hurricane Center is giving it a 60 percent chance of development over the next five days (40% over the next two days).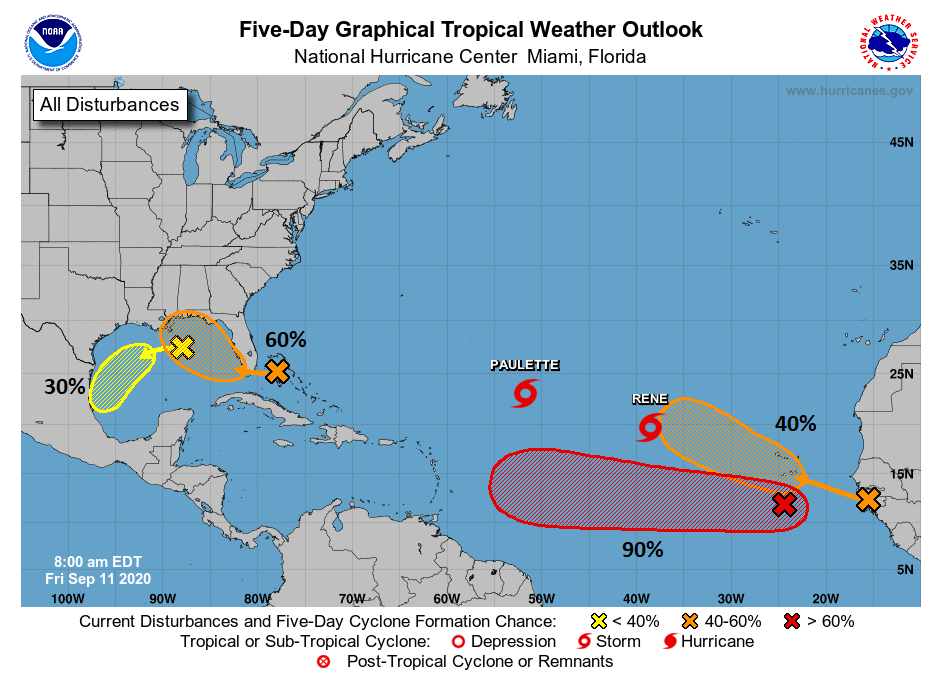 But we have to get through the lead disturbance first. This one has odds of 30 percent to develop over the next five days, but it seems that if it were to form, it likely wouldn't happen until it gets south of our area toward Mexico. So why are we watching that lead disturbance? Well, it's close enough to the coast that it will likely send a surge of moisture this way beginning tomorrow. This should be enough to generate numerous showers and storms offshore, along the coast and/or just inland on both Saturday and especially Sunday. If storms do blow up offshore significantly, it is possible that coastal areas may only see a little rain. Areas north and west of Houston may not see much rain at all this weekend.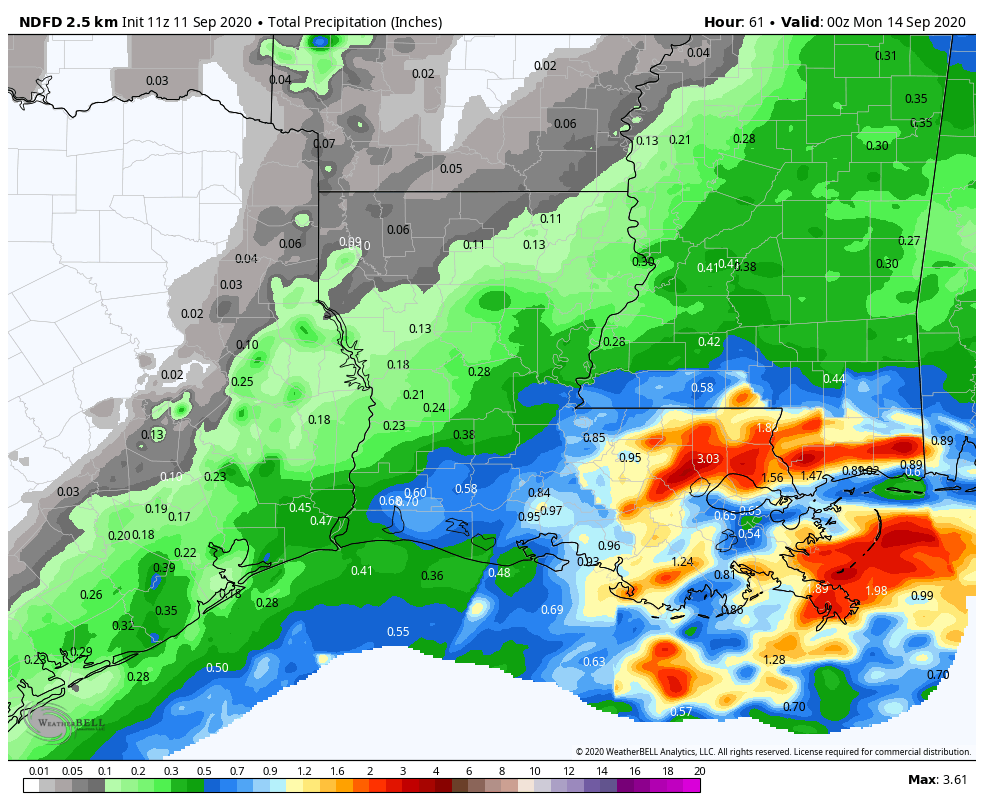 Total rainfall from Friday into this weekend will probably average under a quarter inch north and west of Houston and closer to a half-inch near the coast. Some areas will likely see higher amounts up over an inch, and others may see no rain at all. Flooding, other than the typical ponding or minor street flooding we see in heavy downpours is not expected this weekend.
After a morning low in the 70s Saturday, we'll see humidity inch up all day, and with highs in the 90s, expect heat index values to surpass 100° once more. Back to late summer we go. On Sunday we'll see similar temperatures or a little cooler weather due to more cloud cover. Humidity will remain high. Watch for some choppy conditions over the bays and in the Gulf with slightly increased winds (~15 mph) with onshore flow.
Tropics & next week
The second system will not impact us, if it does at all, until at least Wednesday or Thursday. So to start the week on Monday, look for scattered to numerous showers and storms, perhaps chances push a bit farther inland than the weekend. This pattern may continue Tuesday. By Wednesday, we could see a brief break before that second system gets involved Thursday.
Simple discussion: The next tropical wave is going to slowly work west across Florida and through the Gulf the next few days, possibly developing as it does so but likely coming ashore to our east. Regardless of any of that, it will increase our rain chances by Thursday or Friday.
More technical stuff: There's a really high degree of uncertainty at the moment with respect to that Bahamas system. One the one hand, I looked at a bunch of weather models, even the speculative ones we constantly tell people not to bother looking at for tropical systems (I need a shower now), and I don't see a single one developing it much past where it is now; maybe one or two get to depression level. But when you look at satellite above, it looks a lot better than I would have expected today. Additionally, it's going to be over the Gulf for a time, and it will be in a low shear environment. Realistically, this has a better shot at development than any model gives it credit for right now. The only thing I can come up with to explain why the models don't particularly care for it, is that a good chunk of its low-level vorticity or the most "spin" associated with the system ends up along the immediate Gulf Coast or, as the European model suggests, just inland. So the models likely sense this is too close to the coast to develop. Given how far south it appears to be right now, I think the Euro may be a bit off-kilter here, and although we'd still expect a general track toward southeast Louisiana, it's worth continuing to watch.
What does it mean for us? Right now, we'll just call for an increase in rain chances later next week and perhaps some choppy conditions offshore with some slightly gustier winds. At this time, we do not expect significant impacts to our area (or to Hurricane Laura damaged areas) beyond increasing rain chances and slightly higher tides. But again, given the disturbance's location and the time of year, it would be foolish to write it off completely, so we'll keep watching.
We will also watch for maybe, possibly a new chance to see cold front by next weekend. That's literally all I'm going to say about that for now, and if it's still there Monday, we'll tell you about it.