Happy Halloween! Before jumping into the forecast let's take a look at what a trick of a month this has been for Houston and much of the southern United States. The following graphic shows the ranking of the average temperature this October compared to more than 100 years of temperature records for this month. Hint: It was warm.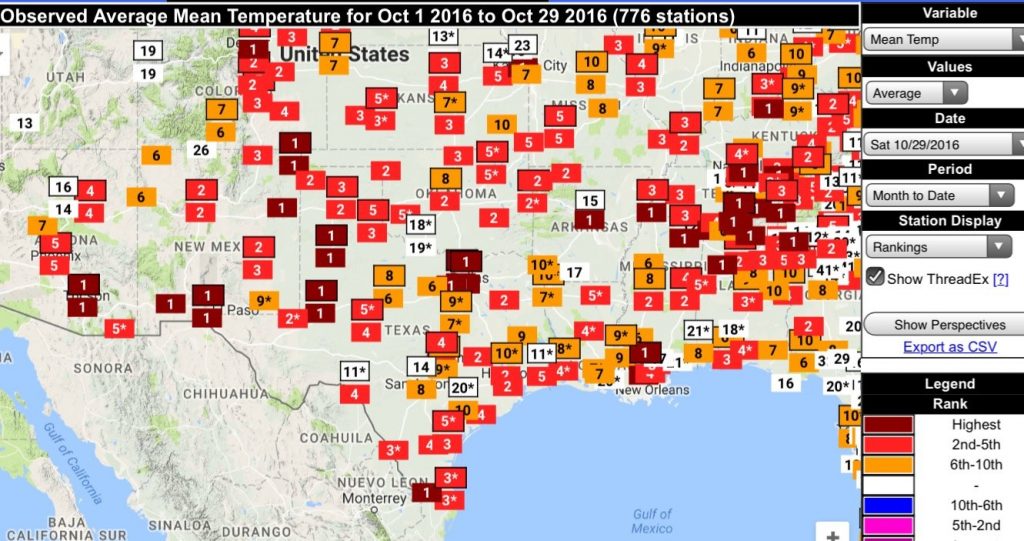 The Houston area has had some sites with the second warmest temperatures, but Dallas, Lubbock, Brownsville, and many other sites are on pace for their warmest Octobers on record. It looks like we'll have one more warm-ish week before the pattern really does change for good into more fall-like weather.
Today
Houston is under a dense fog advisory until about 10 am CT. With high pressure overhead, today will be another warm, mostly sunny day with high temperatures in the mid- to upper-80s, and overnight lows falling only to around 70 degrees. It won't be chilly this evening during trick-or-treating, but it won't be particularly unpleasant, either. Rain chances will be near zero.
Tuesday through Thursday
As high pressure moves off moisture levels will increase over Houston. This will accomplish several things—we'll see more clouds, which should limit high temperatures to the low 80s, and after an extremely dry October we might see some rain showers to start off November.