Hurricane Dorian exploded into a category 4 monster hurricane overnight, and it will next torment the northern Bahamas. From there, it will drift a bit more and then turn north, but exactly where that turn occurs will determine how severe the impacts are for Florida, as well as perhaps for areas farther up the coast. Let's walk through things.
Now
One look at a satellite loop of Dorian tells you all you need to know about the storm in its present state.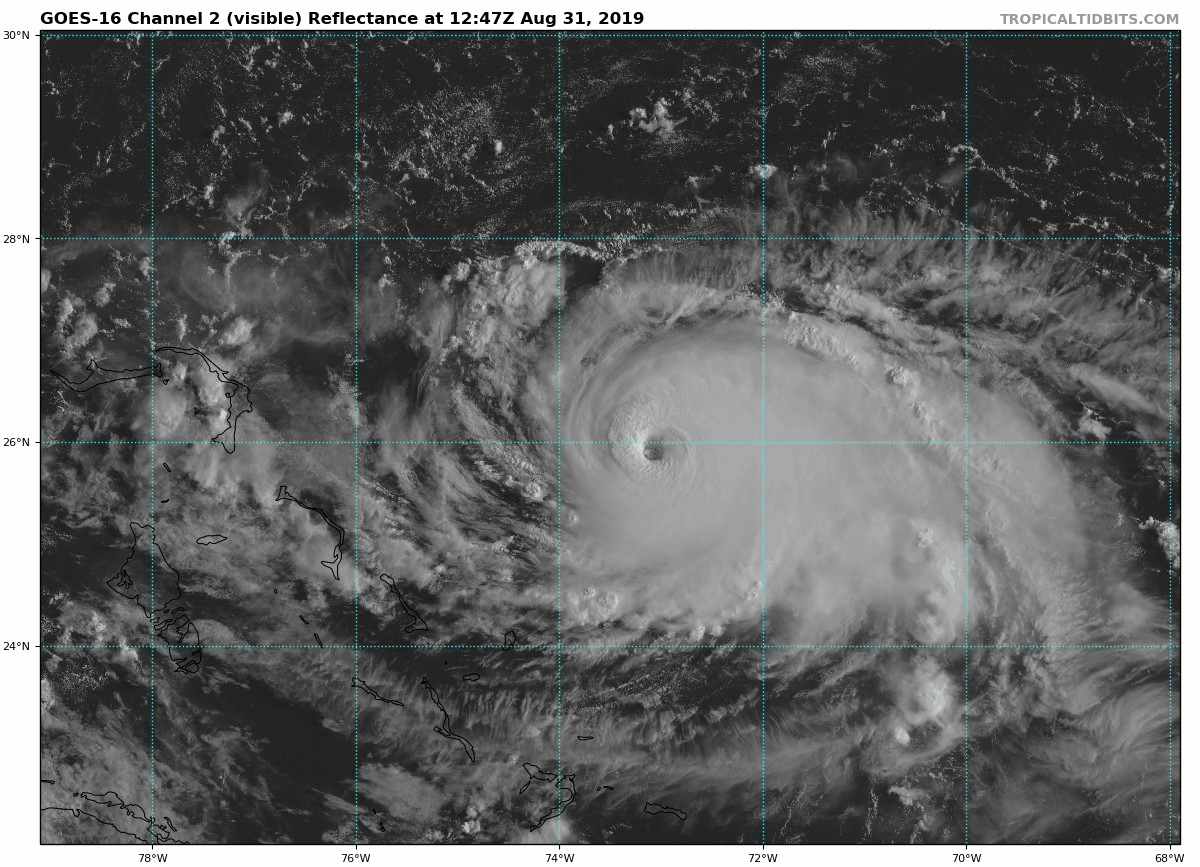 Dorian is menacing, with maximum sustained winds of 150 mph, making it a strong category 4 hurricane on the Saffir-Simpson scale. Over the next 2 to 3 days, Dorian will likely fluctuate in intensity.. But in general, expect it to remain at least a category 3, major storm. It's not impossible to think Dorian could briefly attain category 5 status at some point. But typically, when storms get this strong, there are various ups and downs in intensification periods that are challenging to predict.
Dorian's track
In 2016, Hurricane Matthew approached the Florida coast from the southeast. It brushed the coast but never made landfall in Florida, yet it was still a billion dollar storm for the state. In 2017, Irma approached the Keys from the southeast, while it was expected to make a sharp turn north. In that instance, 25 to 50 miles difference in where that turn occurred would mean huge differences in impacts for the entirety of the Florida Peninsula. It did approximately $50 billion in damage in what was not even close to a worst case scenario for the state. And now we have Dorian, which has been threatening a direct hit on Florida, but that has been contingent on the exact timing of a turn to the north. Multitudes of options, including a track into the Gulf or a right turn out to sea have been viable scenarios. The trend today has continued to shift toward more of a Matthew-type "brush," as Eric discussed yesterday.
Dorian is moving west, as you see from the satellite image above. The latest NHC forecast implies that Dorian will approach the Florida coast and then turn north.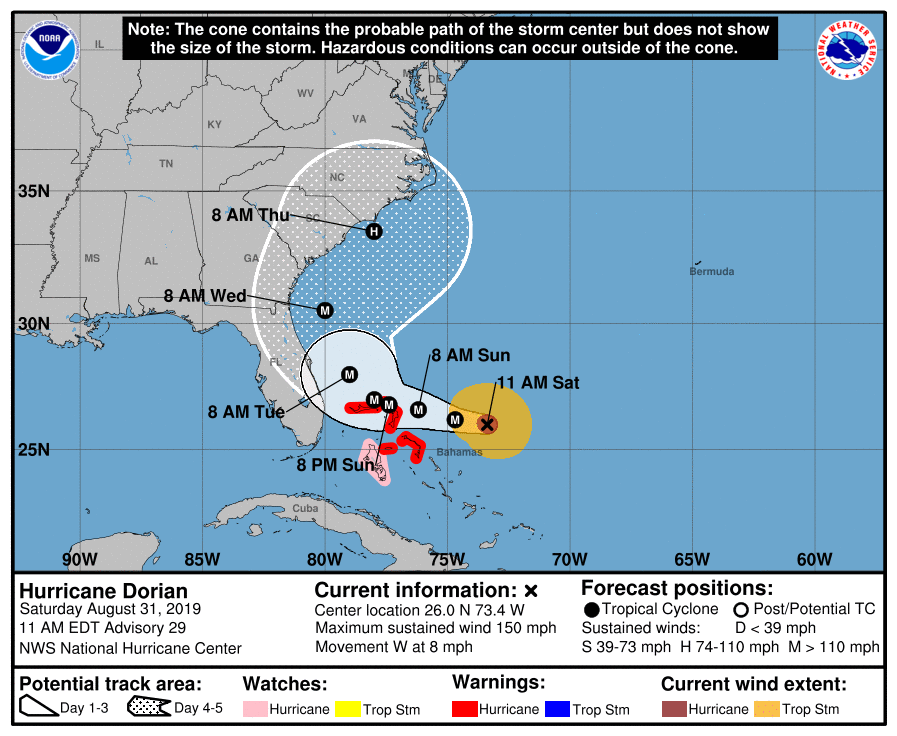 We say it ad nauseam, but we really mean it: Do not focus on the implied track of the center here. Focus on the cone. The future track of Dorian will be contingent on the exact strength and orientation of high pressure to its north, as well as the trajectory, strength, and orientation of an upper atmospheric disturbance (trough) in the Midwest and East next week. These are all things that can change subtly in the hours and days ahead, forcing Dorian to track a few miles in one direction or another. Any shift in those expectations would have significant impacts on what conditions are experienced on the coast.
In fact, if you look at the latest spread of European ensemble members from last night's run, you can see a wide dispersion of possible tracks.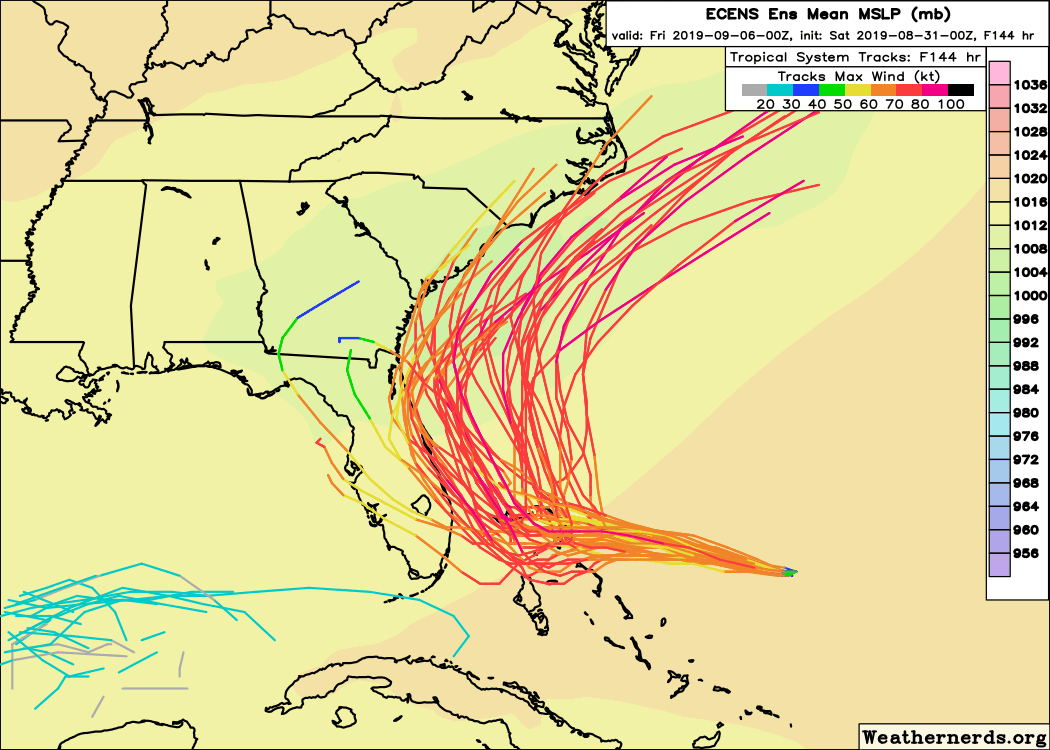 Yes, only a handful of members track the storm across Florida now. It's not the favored outcome, but it remains a possible outcome. Again, this is why we urge folks to focus on the cone.
So Dorian should turn north after hammering the northern Bahamas. The turn north should occur either along the Florida coast or 50-100 miles offshore. Coastal impacts will still be significant, even in a miss. Dorian will generally track slowly north before eventually turning toward the northeast. Again, timing matters here because the Carolinas are in the way. It's plausible that Dorian makes it far enough west to eventually make a landfall in South or North Carolina. We have a few extra days to iron that out. As Dorian moves north, it should slowly weaken a bit as well.
Regardless of landfall or no landfall, Dorian promises a few things: Rough surf, coastal flooding, potential surge, and beach erosion for the coast from Florida through at least North Carolina. Also, Dorian should bring a healthy amount of rainfall.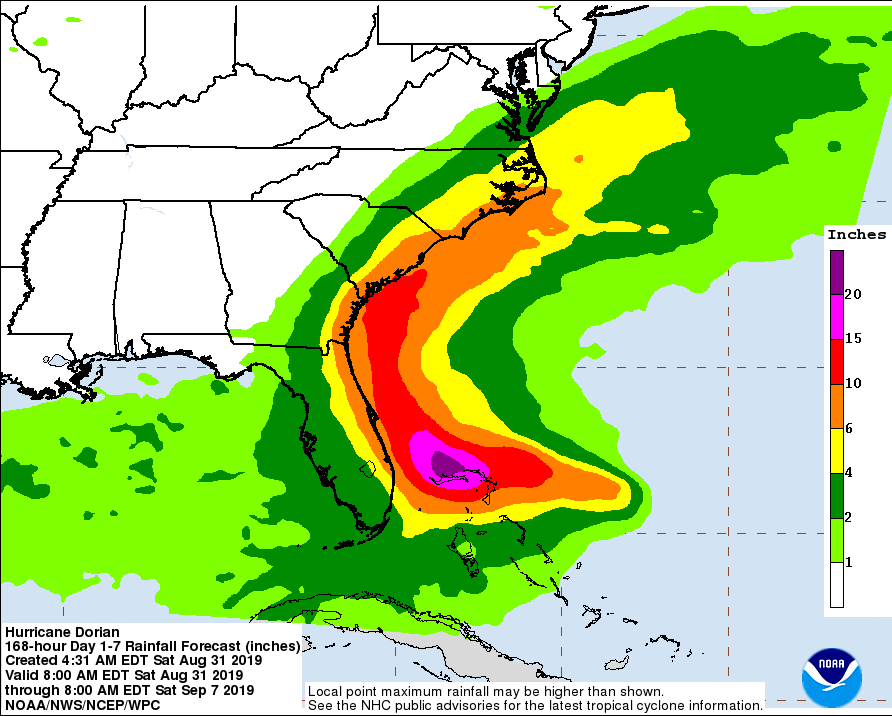 Rain totals should be about 6 to 10 inches along the coast from West Palm Beach to Cape Hatteras. Higher amounts are possible, and rain could extend farther inland in the Carolinas as well. Conversely, if Dorian does track farther offshore, closer to the right edge of the current forecast cone, these rain totals will be a good bit lower. But the most probable scenario right now suggests heavy rain along the coast.
Barring any significant changes today, we will update you again tomorrow morning.
Lastly, the National Hurricane Center is also assigning about a 20 percent risk of development in the southern Gulf from the disturbance we've discussed all week here on the blog.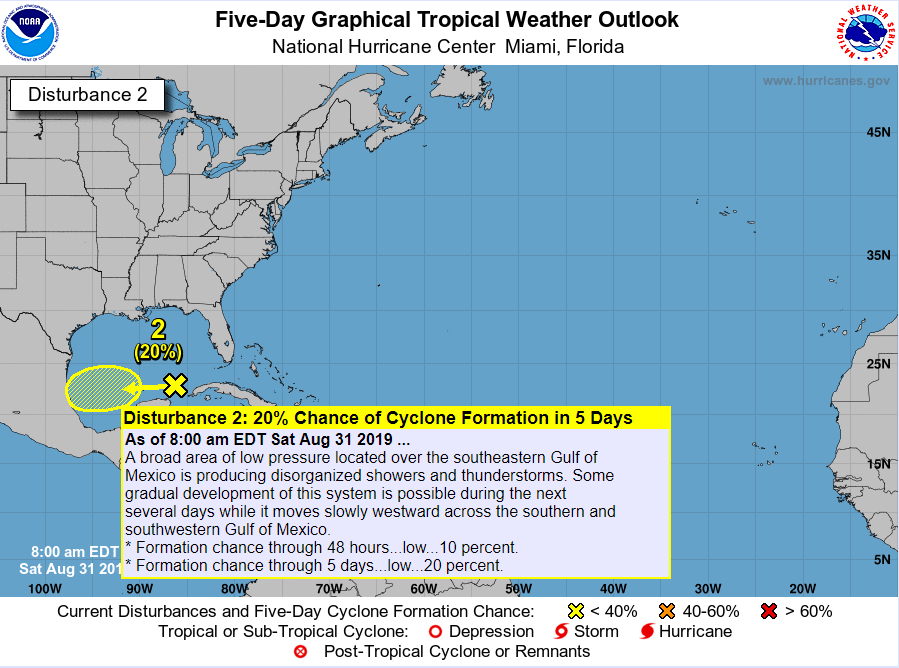 That is currently likely to travel toward Mexico, and it is unlikely to develop significantly. We should not see any impacts in Houston from this system. There are other systems likely to develop in the far east Atlantic off Africa next week, but none of those looks like a serious concern at this time. The Gulf is expected to turn quieter for a stretch beginning later next week.