Today has worked out rather well so far for most of the area. South and east of Houston was minimally impacted as expected, with under an inch in most locales. North and west of Houston saw roughly 1 to 3 inches on average. The jackpot occurred in Waller County, as Eric discussed this morning. Threemile Creek at FM 362 just northeast of Prairie View was today's champion with nearly 6.5 inches of rain.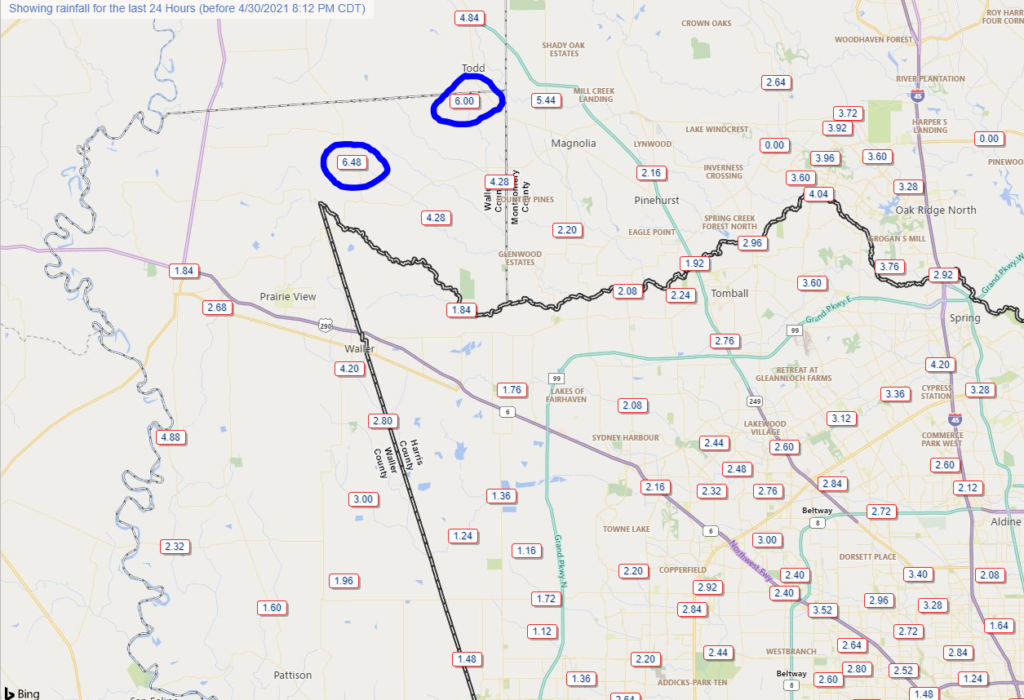 While that's certainly a lot of rain, thankfully flooding has so far been restricted to some sporadic street flooding and some lowland flooding in rural Waller County. If you do need to travel between Magnolia and Prairie View tonight, use caution.
So as of 8:30 PM the radar is quiet in our area. There are two clusters of rain right now: One is just moving east of I-35, east of Austin and San Antonio. The other is sitting offshore between Corpus Christi Bay and Matagorda Bay. Everything looks fairly innocuous now, but after midnight tonight, storms are likely going to explode to our southwest. Significant, widespread heavy rain is likely, well to the southwest of Houston. The area between Corpus Christi and Victoria seems to be the most likely to see significant 4 to 8 inch totals, well away from the Houston area. The HRRR model depiction of what radar could look like overnight is shown below.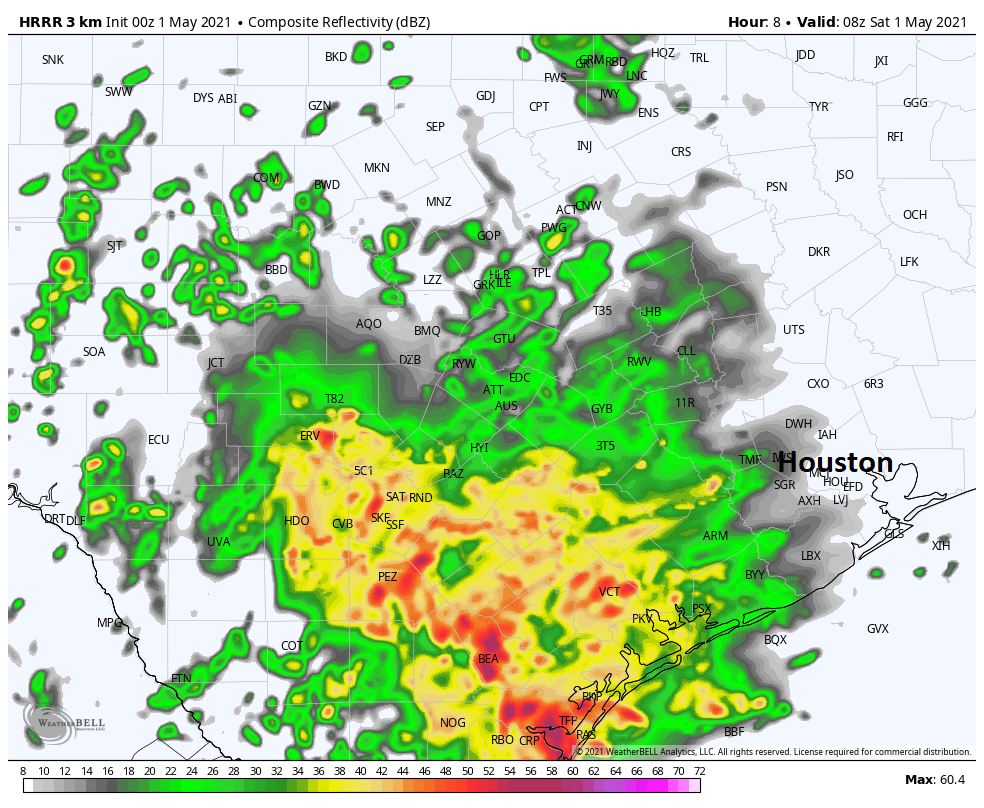 Folks in Wharton or Matagorda Counties will want to pay attention to things overnight I think, but even they may be a bit far enough northeast to avoid the real heavy stuff. This area of rain is likely going to creep closer to the Houston area on Saturday morning. Thankfully, it should also begin weakening around the same time, so while I would plan on some rain for your Saturday morning activities, if everything goes according to forecast, we should see minimal issues on area roadways.
As always with upper lows, there is a tinge of uncertainty underlying everything. However, there is very good model agreement on the general theme of things tonight and tomorrow, so we aren't especially worried. With that said, we will maintain a Stage 2 flood alert. But honestly, that's mainly for areas that have already been hard hit, like Waller County, although the rains don't look too serious there tonight and the first half of Saturday.
Also, folks near Galveston Bay have been removed from the NWS Flash Flood Watch as of late this afternoon. Depending on how things go tonight and early tomorrow, Eric and I will consider pulling back to a Stage 1 alert on Saturday. Fingers crossed.
Saturday afternoon and evening
As of this evening we think most Saturday afternoon plans should be fine. There may be a few showers or some light rain around, so have an umbrella handy. But you might be able to swing most plans without issue. Saturday evening may see conditions go downhill with a line of thunderstorms coming out of Central Texas and sweeping across Houston after 9-11 PM or so. Conditions would improve greatly on Sunday. We'll update you on that tomorrow morning.
Here's a quick breakdown of how Saturday looks:
6 AM-Noon: Heavy rain possible, especially west of I-45 and south of I-10. Scattered showers and storms possible elsewhere.
Noon-6 PM: Scattered showers or some light rain, but intensity and coverage of rainfall is expected to diminish.
6 PM-Midnight: Increasing chances of rain and thunderstorms as you get closer to midnight.
We will freshen things up for you again tomorrow morning. Have a good night!