Houston summers are notably hot and humid. Many of us hate it, but it's almost a badge of honor of sorts for us, right? Anyway, Hobby hit 100° yesterday and Bush hit 99° as well. For Hobby, that's the third earliest date since 1930 that we've hit the century mark for the first time in a year, just being beat out by May 31, 1998 (100) and June 5, 2011 (102). At Bush Airport and officially for Houston, we tied for our eighth earliest first 99° reading. May 29, 1996 and June 2, 2011 top that list. The average for our first 99° at Bush is July 16th, and the average for our first 100° at Hobby is July 17th. This is very early for this kind of heat. Granted, we're going to be dealing with a borderline historic ridge of high pressure in the West the next several days, so I guess it should not be much of a surprise, but after a very wet May, color me a bit surprised we went this far this fast. Hopefully not a harbinger of things to come this summer.
So the obvious question is: Will the heat last? Let's try to answer that.
Today
While we expect today will be another scorcher of a day, we may end up a degree or so cooler than yesterday, and we may also see a couple more showers than we did yesterday too. Maybe. Most folks will still probably stay dry today though.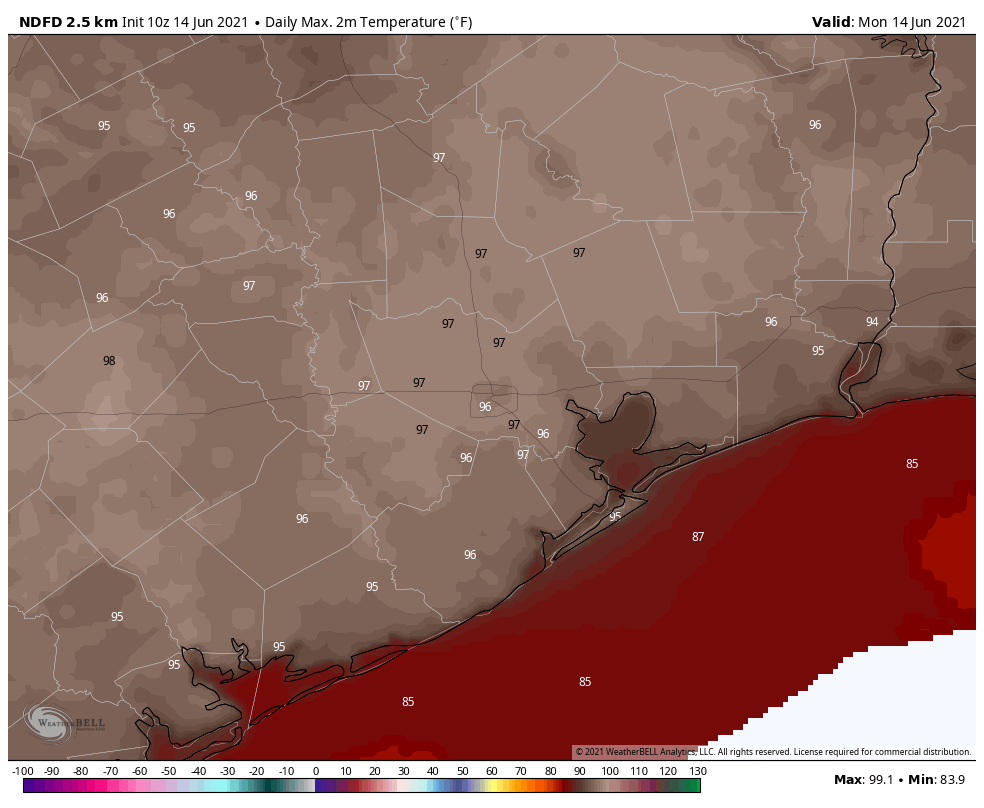 Upper air temperatures look stoutly warm this morning, but by evening they're running a tick or two under Sunday. So, in general, expect mid to upper-90s today. Heat index values will get up over 105° in spots this afternoon, so please exercise caution if outside. In addition, today will be another ozone action day for the area, so take care if you have respiratory sensitivity.
Tuesday & Wednesday
Tomorrow we see a small bite taken out of the heat, so we'll probably drop off another degree or two compared to Monday. We'll call it mid-90s. Better rain chances look to arrive Tuesday, as a slightly larger scale disturbance in the upper atmosphere moves across the region. On Wednesday, we'll see a good setup for at least scattered showers and storms. Look for mid-90s once more. Morning lows will be in the 70s to as warm as 80° perhaps.
If I were classifying rain chances, yesterday was about 5 to 10 percent coverage. Monday will be 10 to 20 percent, and Tuesday/Wednesday would be 30 percent coverage. So, many folks may not see any rain at all, but at least some of us should. Hopefully.
Thursday
On Thursday we stay flat or lose another degree or so in temperature, as we lie between high pressure dominating the West and a trough on the East Coast. Already low overall rain chances may lower a bit more on Thursday. Look for mid-90s by day and 70s to near 80° by night/morning.
Beyond Thursday (Tropics)
Looking out to Friday and beyond, our attention turns to Invest 92L, which I went in depth on yesterday. Honestly, not much has changed since that post. The system is still messy looking. It will still have high shear to deal with, and there will likely be some dry air over Texas that will attempt to fight it back a little bit. So there likely remains a fairly low ceiling on just how intense this system can become.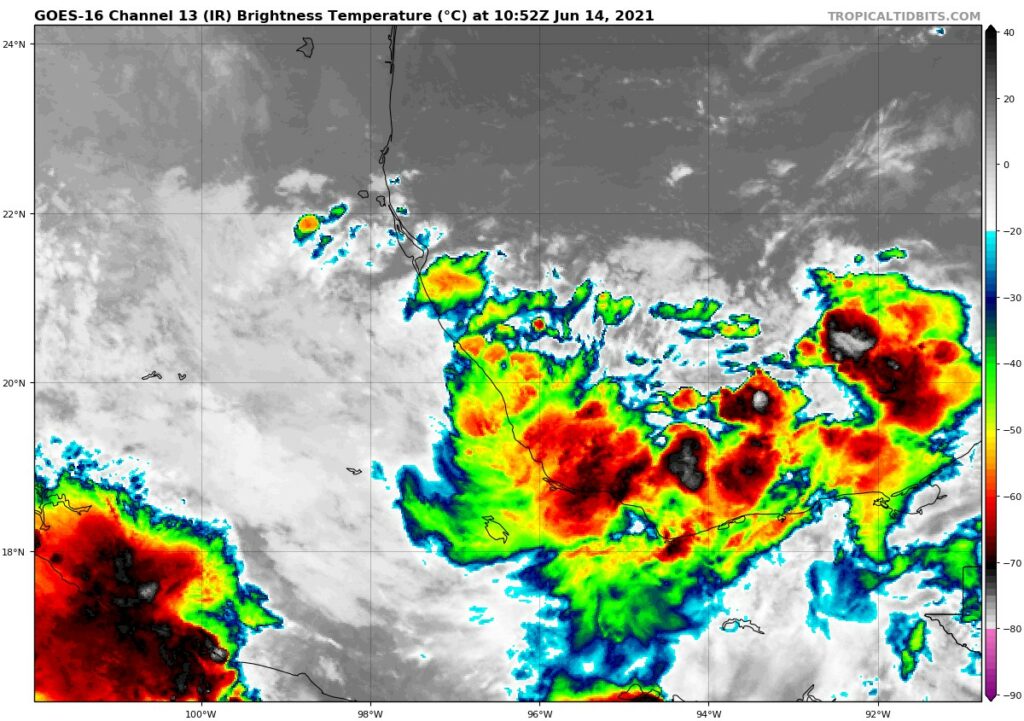 As Invest 92L comes north in a very sheared environment, it will likely continue to have the bulk of its moisture kicked off to our east. Again, if you look at a GFS model forecast of relative humidity in the upper atmosphere, generally a decent indicator of how constructive or destructive the environment will be surrounding a tropical system, there is a clear signal for very, very dry air over Texas. This likely means a.) a sharp cutoff to how far west precipitation can expand on the west side of the storm and b.) the risk that some of this dry air gets "entrained," or wrapped into the system itself as it comes north, limiting how well-organized it can become.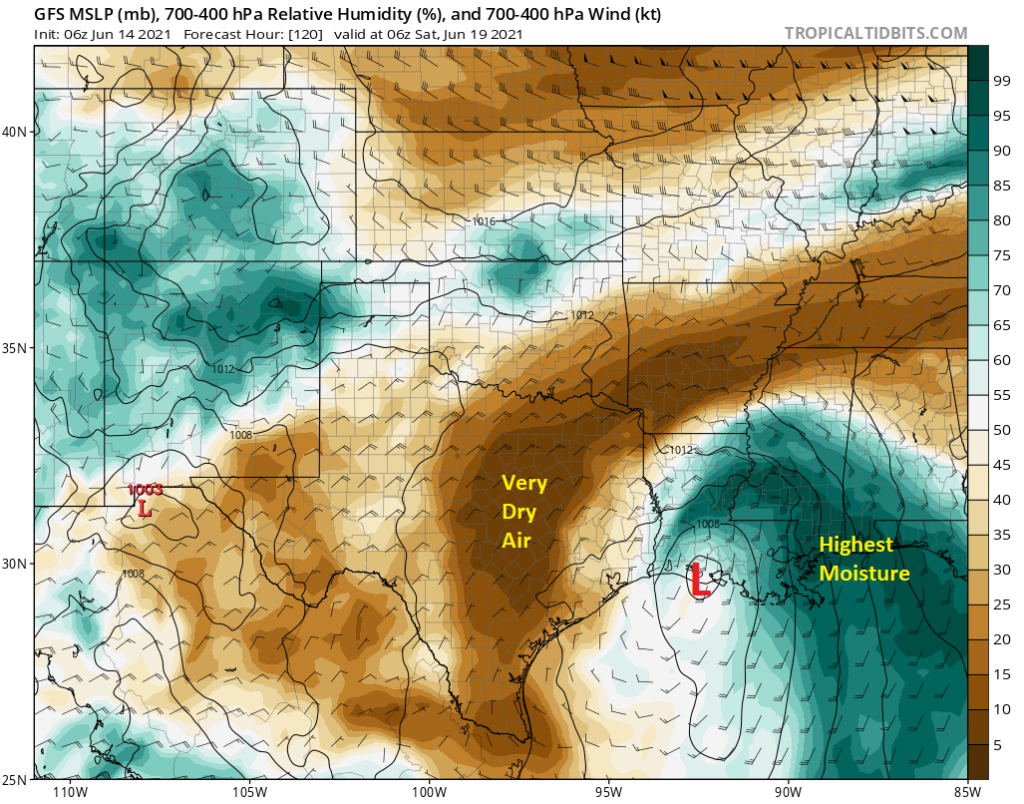 So what does this mean for the Houston area from Friday into the weekend? While I'm certainly sounding very unexcited about rain from Invest 92L in the Houston area, it will boost our rainfall odds a bit from where they are on Thursday. So look for at least isolated to scattered showers or storms on Friday, Saturday, and Sunday as 92L draws north. Uncertainty increases a bit obviously as we march through this weekend, but in general, we continue to feel the heaviest rain will stay to our east, possibly well to our east. But I would expect at least some chance for scattered rain over the weekend. We'll fine tune this through the week.
Temperatures, especially if rain stays well off to the east of Houston will likely be warm to quite hot heading into the weekend, maybe cooling a bit as rain chances increase.
With respect to your plans for the week or weekend and Invest 92L? I would not make any changes because of this system right now, but I would check back each day for an update to make sure nothing has significantly changed. More tomorrow.