Thursday saw another mixed bag of weather, with some folks seeing heavy rainfall and others seeing not much of anything. We should replay that program today before better odds of rain and storms return this weekend.
Today
Expect at least a handful of showers and thunderstorms today. Not everyone will get rain, but those that do could see some heavier downpours. In terms of coverage, it will probably be similar to or less than what we saw yesterday, with the best chances the closer you get to the coast. Today probably carries the lowest rain chances of the next several days.
Temperatures will range from the upper-80s where you see showers to the low-90s further inland with drier weather more likely.
Holiday weekend
We'll see another disturbance about 20,000 feet up migrate toward us this weekend. What does that mean? It means gradually increasing rain and storm chances again. Saturday shouldn't be a washout, but there will be a few more showers and storms than we saw yesterday and will see today. Sunday may be when the more widespread showers and storms impact us. Some of the rain on Sunday could be locally heavy. Additional widely scattered showers and storms will remain with us for Labor Day.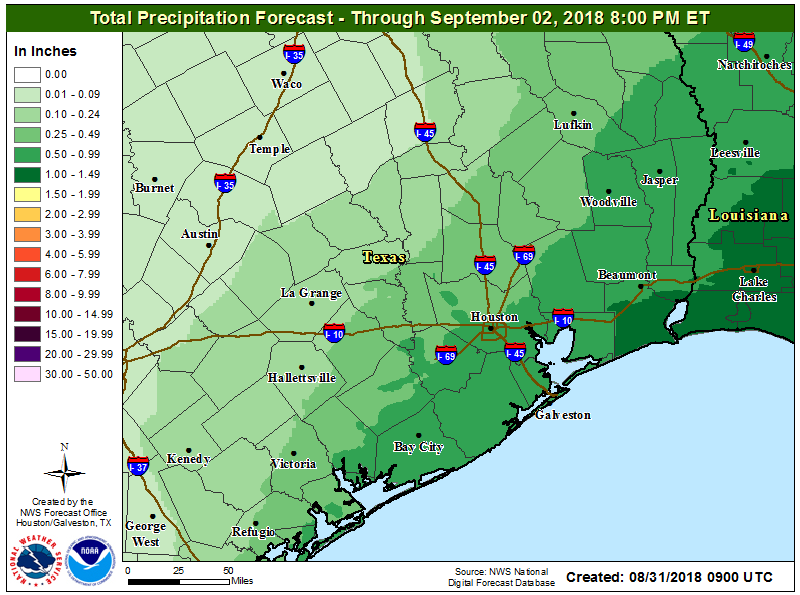 Best course of action this weekend? Have a rain plan ready to implement if you've got any outdoor activities. In some cases, you won't need to use it, but given the erratic nature of rainfall in these setups, it would be good to have a plan to turn to. We don't expect any serious flooding this weekend, but as is almost always the case in Southeast Texas storm setups, locally heavy rainfall could lead to brief, localized street flooding in areas of poor drainage.
Also worth noting, the tropical thunderstorms this weekend could be capable of producing funnel clouds or brief waterspouts, especially in the morning near the coast. Just something to keep in mind if you'll be at the beach this weekend.
Expect temperatures in the upper-80s most days, with low 90s inland if rainfall doesn't materialize quite as much as anticipated.