Posted by Eric Berger at 6:54 AM
After a stunning Sunday, we'll now see the return of some clouds today, and as early as tonight some healthy rain chances. Most of this week looks pretty gray, although there's a chance of sunshine toward the Friday or Saturday period. Unfortunately, the forecast from Thursday on is fairly uncertain at this point.
Monday
Skies remain somewhat clear this morning for parts of Houston, and we'll see at least partly sunny skies for most of today, as highs warm into the mid-60s across Houston. However, change will be on the way as the high pressure system overhead moves away, and winds begin to return from the east and southeast. With this returning moisture, a few scattered showers will be possible near the coast this afternoon and early evening.
Rodeo forecast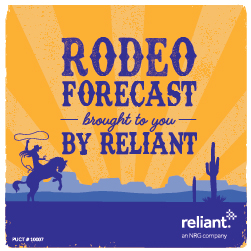 Every weekday for the next three weeks, we're going to offer Rodeo outlooks for people going to the concert. (Tonight, I'll be among them, as Mrs. Space City Weather is a big Kasey Musgraves fan.) We'll see temperatures of about 60 degrees at 6pm, with partly to mostly cloudy skies, and 10mph easterly winds. We can't entirely rule out rain chances, but they're probably around 10 percent for central Houston. After the show, temperatures will still be in the upper 50s, but the chance of scattered showers will be better, probably closer to 30 percent. Any rain should be light.
Tuesday
This looks like a wet and gray day. Highs will get into the mid- to upper-60s, and the combination of warmer air, low pressure, and ample moisture should lead to on- and off-again (mostly) light to moderate rain showers. All told, accumulations for most should be well under one-half inch, but a some areas may see a bit more. We also can't rule out a few pockets of hail. The healthy rain chances should persist into Tuesday night, when lows for most won't fall below 60.

Read More…