Good morning. A line of showers and thunderstorms is moving through Houston this morning from west to east, and this should be the last rain before an exceptionally sunny week. Seriously, we should see a stretch of at least six sunny and mostly cool days—lovely late winter and early spring weather.
Before jumping too far into the forecast, however, I wanted to answer a question from a reader that I think others might find of interest. Lee Sharp writes to say that he and longtime girlfriend Aida Gonzalez are ready to tie the knot:
"We have this amazing backyard, and really want an outdoor reception. But Houston weather being what it is, and the advance lead times needed for a weeding… So, when is the best time of year for an outdoor event? Not being rained out is first priority, but also not having everyone die of heatstroke is important as well. So what do you think?"
The easy answer is not summer! So we can rule out the period of June through September due to heat and humidity. I'm going to take away December through February too, because while it doesn't necessarily get all that cold in Houston, it can get quite chilly and blustery during the winter months. This leaves us with March, April, May, and October and November. Of those five months, March (3.20 inches) and April (3.25 inches) have historically the lowest annual rainfall totals—more than one inch below the other contending months. Late March actually has the lowest daily chance of precipitation of any time of year, 21 percent, compared to 40 percent in mid-June. The chance of rain is even lower during the evening hours, falling below 4 percent. Finally, April and May are subject to spring storms, and October and November are subject to stronger storms and tornadoes as well.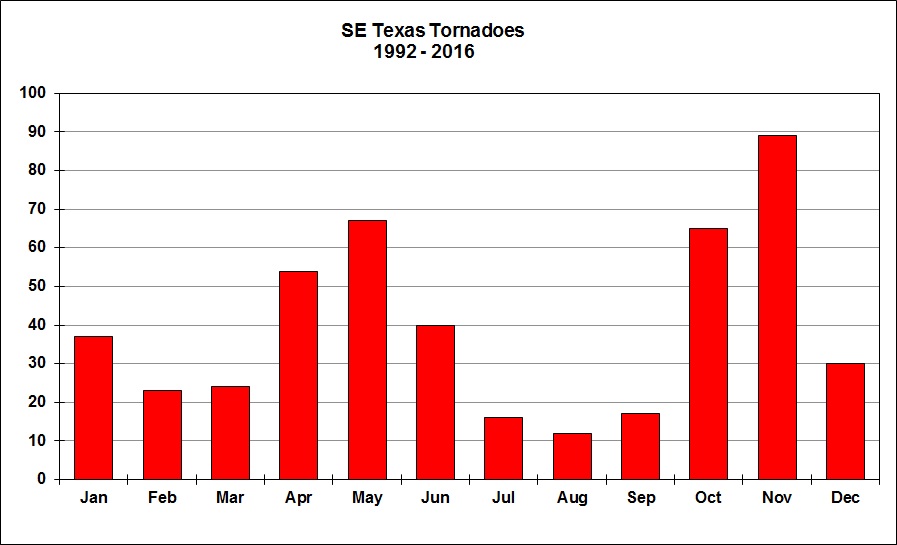 All of this leaves the obvious conclusion that March is the "safest" month to plan an outdoor wedding in Houston, although there really is no "safe" time. It is historically the driest month, with a generally mild climate (average high 72.4 degrees), and if you're having a backyard wedding I imagine flowers and gardens and trees are starting to bloom nicely later in the month. So to pin things down even further, the best time for outdoor weddings in Houston is the last two weeks of March, during the afternoon or evening hours.
Monday
A line of showers and thunderstorms should move southeast across the area and offshore by around noon today. Most parts of Houston will see less than one-half inch of rain but a few stronger storms could generate isolated areas of 1 inch of rainfall or more. High temperatures today will reach the mid-70s under mostly cloudy skies. A weak cool front will sag into the area this evening, helping to drop temperatures to around 50 degrees Monday night under mostly cloudy skies.